Silverstripe Cloud
Silverstripe Cloud is our fully-managed cloud hosting platform. With Silverstripe Cloud, you receive NZ based, 24/7 infrastructure support from the team of experts that build Silverstripe CMS, our open-source software.

Log in to Silverstripe Cloud
Secure
We always looking out for possible threats, using the Common Vulnerabilities and Exposures (CVE) system, so we can manage them to protect your website. We are a tier 1 security and risk assurance supplier in Pae Hokohoko Marketplace, and we have ISO/IEC 27001 certification. 
ISO/IEC 27001 - Information security management

systems
Available
Distributed infrastructure reduces the risk of your website going down because of traffic spikes or a natural disaster. We guarantee 99% uptime. If something does go wrong, regular backups will ensure seamless recovery. 

Our scalable stacks will increase and decrease resources as your site traffic requires, so you only pay for what you need. 

We're available if you need us, too. Silverstripe Cloud customers get New Zealand-based, 24/7 support to get your website back up if there's a critical incident.

Part of the world's most popular cloud
Silverstripe Cloud is built on Amazon Web Services (AWS), which comes with all the benefits of the world's most comprehensive cloud platform–it's fast, reliable, and used all over the world.
Easy to use
We'll take care of upgrading the platform, making sure you're on the latest version, and limiting vulnerabilities. If there's something that needs changing, we'll let you know. 

The Silverstripe Cloud dashboard lets you assign user permissions to people in your organisation to make sure everyone has the access they need. If you need to create a support ticket, you can track your tickets and communicate with our team right in the dashboard.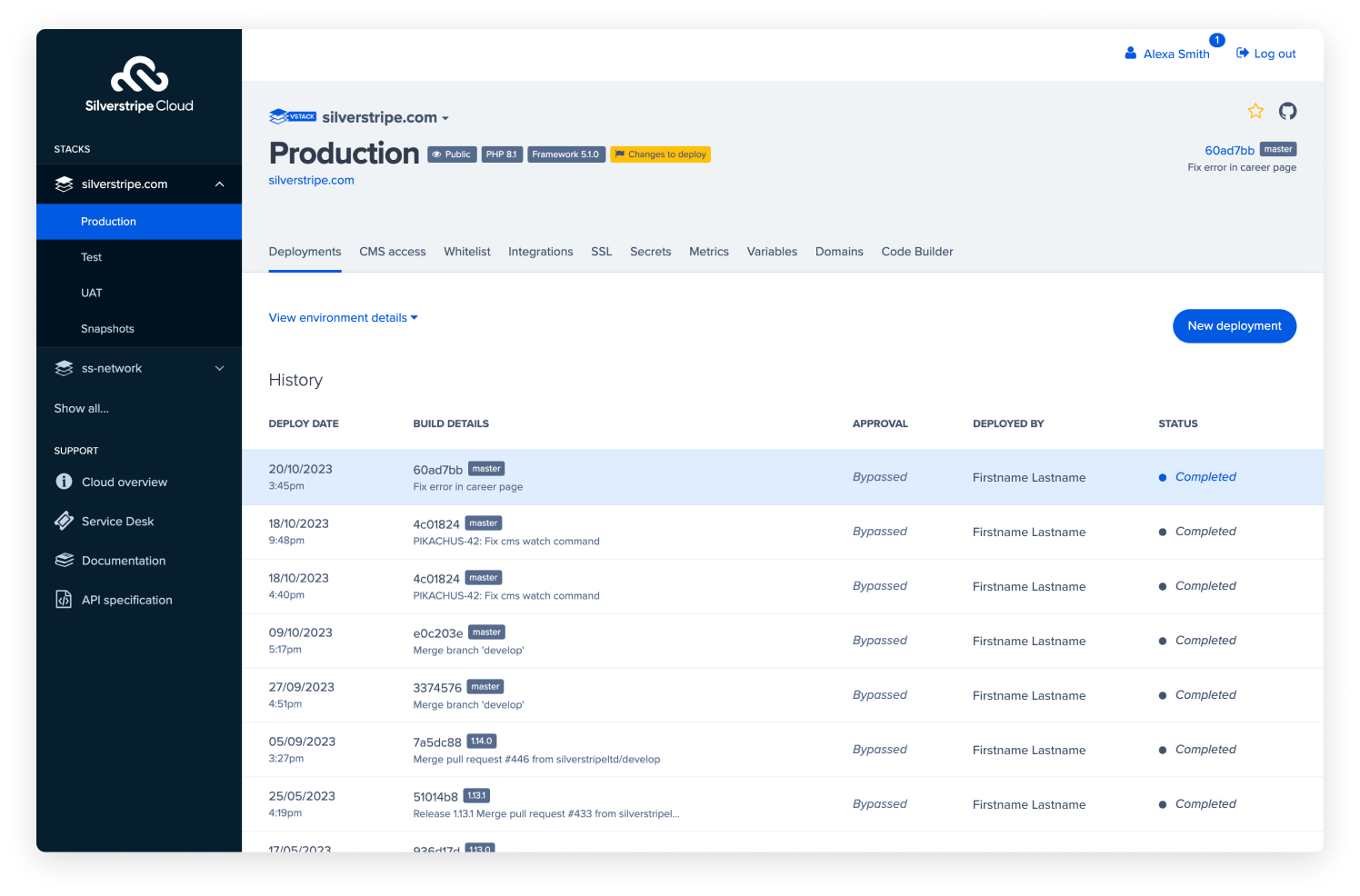 Let us take care of minor upgrades and patches so you don't have to think about them.
Get Code Care
Silverstripe Cloud Public Sector
Silverstripe Cloud Public Sector is our cloud hosting offering for New Zealand public sector organisations. Silverstripe Cloud Public Sector offers the peace of mind of our managed cloud hosting infrastructure with options designed specifically for public sector clients.
Get in touch to find out

more
Let's get building!
Ready to start building your website on Silverstripe Cloud? We can help. Get in touch with the team.